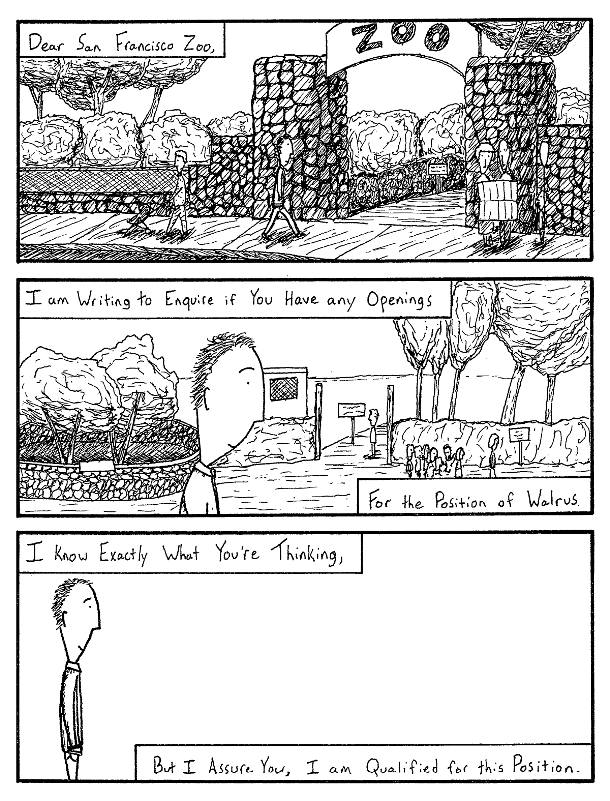 How I Came to Work at the Wendy's lures you in with a cute opening scene where a man attempts to find employment as a walrus at the local zoo.  Brilliant!  How had I not thought of that!  I would make an awesome penguin!
But what happens over the course of this comic is we are led deeper down the path of depression that the main character feels.  His life and his relationships begin to unravel as his sense of self-worth becomes directly tied to his ability to find employment.
This is a feeling that is all too familiar to both the employed and the unemployed.  Identity is a constant struggle.  How much are we defined by that thing which we do 8 hours a day for a paycheck?  Why is the first thing we ask whenever we meet someone new, "What do you do for a living?"?  Our vocations occupy a much larger part of our lives than any of us would like to admit.
Nick St. John has captured all this perfectly. With simple lines and minimal backgrounds, St. John has created a believable everyman everyman whose entire body scream out with the desire to be successful!   The comic speaks volumes, especially in these days of double-digit unemployment.
How I Came to Work at the Wendy's is a fantastic mini-comic that deserves a look!
I found my copy at my local comic shop.  If you are dying to read it and cannot find a copy at your local comic shop (shame on your local comic shop!!!!), then you can read it for free right here!  BUT…if you want a true treat, you can purchase a copy of volume 1 the Butler University journal, Booth for a scant $5.  Volume 1 not only has the aforementioned comic, but also a fiction piece by the incredible Davy Rothbart (creator of Found Magazine, author of The Lone Surfer of Montana, Kansas, and contributor to This American Life).  I am not one who normally buys something twice, but I would be willing to shell out $5 for that one-two punch of awesome!  You can pick it up here.